First Time Home Buying in the 1980s and 1990s
1980s
Interest rates in the 1980s were in double digits for most of the decade and the Bank Rate actually reached 22% in 1981, a far cry from today's 3%. Despite seeing some heart stopping interest rates, home prices in the 1980s increased by 260% from $76,000 in 1980 to $274,000 in 1989.
The Year: 1981 – Toronto's Average Home Price $90,000  
The Buyers: Janet and her 2 brothers. Janet was 23 at the time she purchased and her two older brothers were 25 and 27.
The Buy: 2.5 Story Semi-Detached home that was divided (in the roughest of manners) into 4 separate apartments.  30 x 100 foot lot on Grace St. in Trinity Bellwoods.
The Numbers:  Purchase Price  – $81,000
Their Grace St. home was purchased with a $20,000 down payment, $10,000 of which came from a loan from their mom, $5,000 came from an investor, and the three siblings put up $1,700 each to form the rest of the down payment. The three of them were just starting out. Janet was making $300/week freelancing in the film industry, while one brother was a law student and the other was a waiter living in NYC. Their interest rate at the time they purchased was about 13.5%. Janet lived on the top floor and her one brother was on the main level, they rented the 2nd and basement floors. Janet eventually bought out her two brothers and later sold Grace St. to purchase her next property.
The average price for a semi detached homes in TREBs C1 District Year To Date (October 2014) was $915,000, 11.3 times their 1981 purchase price; however, this particular property actually sold earlier this year for $1.46 M.
Current Situation: Janet currently lives and owns a property on Glenholme Ave in Toronto. Janet and her husband also own an income property in Riverdale, a house in Price Edward County and a condo in Florida (she couldn't pass up the $40,000 price tag).
Advice and Regrets: Go ahead and buy. Get in the market as soon as you can by any means. "If I were to do it again, I would never have sold our property on Grace Street to buy our current home on Glenholme. I owned it outright and should have mortgaged it. It was a costly error," says Janet. Do what you can to hold on to properties in the city's great neighbourhoods.
---
The Year: 1986 – Toronto's Average Home Price $139,000  
The Buyers: John & Ruth, both 31.
The Buy: Large 3 Story Semi-Detached Victorian on Langley Avenue in Riverdale, approximately 4000 sqft.
The Numbers:  Purchase Price  – $220,000
After 4 years of saving and borrowing from their parents, John and Ruth, both artists, were able to put $55,000 down towards their home. Their mortgage rate was 11.25% which they were happy to get.
A 4000 sq ft home in Riverdale is a rarity, and in good condition, would easily be valued in the $2 million range, 9 times their 1986 purchase price.
Current Situation: John & Ruth raised their family on Langley and still live there today. They have owned a total of 6 homes including their 1980s purchase in Riverdale.
Advice and Regrets: Get into the market as soon as possible and pay down your principal residence as quickly as you can. "If I could do it differently, I would buy a lot more properties, a lot more!" says John.
1990s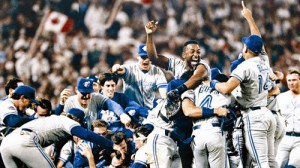 The average sale price in 1990 was $255,000; however, the 90s saw an 11% drop in this average over the course of a decade, finishing at $228,000 in 1999. A rise in unemployment caused by a recession in the early 1990s and reduction in immigration was believed to trigger the home price decline in Toronto. Prices continued to drop on an annual basis from 1990 to 1996 and bottomed out in 1996 at $198,000. The late 90s saw home prices begin to rise again, though they did not return to 1989 levels until the following decade.
The Year: 1991  – Toronto's Average Home Price $234,000    
The Buyers: Laura was 31 and worked in the film financing industry.
The Buy: Row/Townhouse 2 bedroom 1 bath on 14 x 106 foot lot on Swanwick Ave in the Upper Beaches.
The Numbers:  Purchase Price  – $169,000
Laura's employer lent her the $10,000 down payment. Her interest rate was 11.25% when she purchased, and property taxes were $505/year. Laura's salary at the time of purchase was $58,000/year plus bonus.
This type of property would likely fetch in the mid $500,000 range today, 3.25 times its 1991 purchase price.
Current Situation: Laura bought and sold 2 homes before settling into a beautiful 3 story home on Herbert Avenue in the Beach.
Advice and Regrets:  No regrets! Realize that you can't have it all. See the potential a home has to offer, don't get caught up in minor features like granite counter tops.
Check out First Time Buying Experiences in the 1950s, 1960s, 1970s and 2000s, 2010s