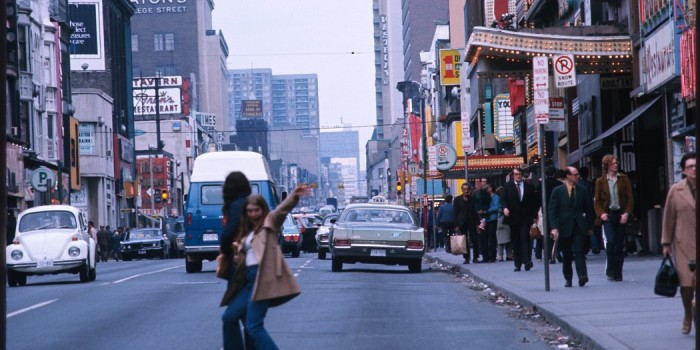 First Time Home Buying in the 1950s, 1960s, 1970s
Do you remember your first time? You were probably nervous and worried you rushed the experience. With all the excitement, you were likely a little sweaty at some point in the process.  For most it happens quicker than you anticipate, but for a few of us it seems to drag on forever. Immediately after it's done, you should feel absolute delight, but it's normal to have some self doubt. Like other first time memories, your first home purchase seems to be one most people don't forget. Which is lucky for us, because we have gone all the way back to the 1950s to share First Time Home Buyer's Experiences over the decades, a must read for anyone considering buying a home.
Has getting into the market always been this hard?! Have you ever considered asking your boss for a loan to fund your down payment? How much would you spend on a home if you were bringing in $3,500 a year? Check out what first-time home buyers were up against each decade, going all the way back to the 1950s, 1960s and 1970s!
1950s
The Toronto Real Estate Board's (TREB) record for Average Home Prices and Sales Volume does not begin until 1967. However, the 1940s and early 1950s were believed to see strong appreciation rates often compared to the recent run up in prices, as discussed in this Globe and Mail article, while house prices in the late 1950s were believed to have stabilized.
The Year: 1957   
The Buyers: Mae and Leonard. Mae, 35, and Leonard, 39, had recently moved up from the U.S. Mae took care of their 3 boys and Leonard was a factory manager overseeing over 200 employees.
The Buy: Detached 2 Story Home on Chaplin Cress at Avenue and Chaplin.  Large 64 x 167 foot lot.
The Numbers:  Purchase Price  – $30,500
Mae doesn't remember what their household income would have been, but admits they were well-off. Leonard asked his boss for a $3,000 loan to purchase their first home and was pleasantly surprised when his boss gave him a $30,000 cheque for the full purchase price. The generous loan was paid back as quickly as possible by the grateful young couple.
Mae sold their Chaplin home this fall for $1,600,000, 52.4 times their 1957 purchase price.
Current Situation: Chaplin Cres. was the only home Mae and Leonard owned. Leonard passed this year and Mae will be making her first move in over 50 years later this fall.
Advice and Regrets: Buying the home you wanted seemed easier back in the day, there were no bidding wars like today and prices were more representative of market value. Keep your purchase affordable, but buy something you love!
---
The Year: 1958
The Buyers: Ron and Joan. Ron was a police cadet and Joan was awaiting their first arrival. Both were in their early 20's.
The Buy: 2 Story Semi-Detached Home on Chelwood Rd., located at Birchmount and Eglinton.
The Numbers:  Purchase Price –$16,900
Their down payment was $1500, $500 saved and $1,000 from inheritance. Ron brought home $3,500 a year as a police cadet and, at $75/month for the mortgage and a few lump sum payments, they paid off their home in 15 years.
A semi-detached on Chelwood Rd is expected to fetch in the low $400,000 range today, 23.7 times their 1958 purchase price.
Current Situation: Ron has passed away and Joan currently lives at her cottage property on Cache lake in Muskoka. Joan and Ron previously owned bought and sold 3 homes in the GTA before moving up north. They went their separate ways after buying their second cottage.
Advice and Regrets: Get your foot in the door and pay your mortgage off as quickly as possible. Buy the most affordable house, keeping it small will keep your expenses low. "I regret taking my father's advice on what home to purchase, you know your needs better than anyone else", says Joan.
1960s
Toronto looked much different in the 1960s, our signature tower wasn't built yet, and Yorkville was apparently a hippie haven, not the upscale area it's seen as today. BlogTO actually refers to Toronto as Buffaloesque in the 1960s. Average home prices in Toronto in 1967 were $24,000 and finished out the decade 3 years later up 20.4% at $28,900. (Note: Due to changes in market areas over time, caution should be taken when making historical comparisons)
The Year: 1967 – Toronto's Average Home Prices $24,078
The Buyers: Jean, 40, and Mac, 44.
The Buy: A 3 Story Detached Home on 40 x 100 foot lot on Hudson Dr. in Moore Park.
The Numbers:  Purchase Price – $42,000
Household income at the time of purchase was around $20,000 and their interest rate was 4%.
The average price for a detached home in TREBs C9 District 2014 Year To Date is $2,500,000, which would make this home worth almost 60 times its 1967 purchase price.
Current Situation: Jean and Mac owned 6 homes since their first purchase. Jean currently lives on Wellesley St in Cabbagetown.
Advice and Regrets: Neighbourhood should be your biggest consideration when you purchase, but just take heart and do it.
1970s
The 70s in Toronto saw the average home price rise 141% from $29,429 in 1970 to $70,830 in 1979. With such large appreciation rates, affordability became a big concern across the country.  This led to builders reducing lot sizes and increasing density as discussed by CMHC in the history of CMHC.
The Year: 1973 – Toronto's Average Home Prices $40,605
The Buyers: Nick and Rochelle. Rochelle worked in a translation office and Nick worked at Liptons in accounting.
The Buy: 3 Bedroom Detached Side Split with 140×28 foot lot on Kecala Rd at Birchmount and Lawrence.
The Numbers:  Purchase Price – $34,000
They had a $3,000 down payment, half of which was saved and half was borrowed. Interest rates were 9% and their household income was between $11,000-$13,000.
The average price for a detached home in TREBs E04 District Year To Date is $540,000 making Nick and Rochelle's purchase worth almost 16 times its 1973 purchase price.
Current Situation: Nick is retired and lives in South Pickering. Rochelle lives in Montreal.
Advice and Regrets: Looking back, Nick probably would have stayed in his first purchase longer. Transaction costs are expensive and people should consider the advantages/disadvantages of renovating/building before moving. Interest rates won't always be this low so avoid getting emotionally committed in a bidding war and get a quality home inspection done.
Want to know what it was like to buy with double digit interest rates in the 80s and price drop experienced in the 1990s click here? Curious how first time home buyer's are fairing in more recent years 2000s-2010s, or how the experience might have differed in Australia click here?