Toronto Neighbourhood Guide 2016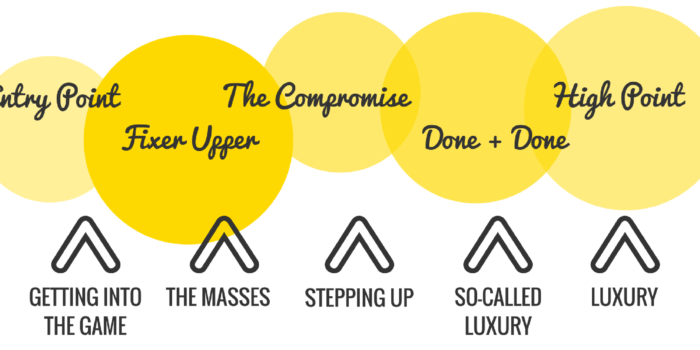 Last month marked Toronto's 10th straight month of price increases! Needless to say, there's been some change since this time last year, so we've gone ahead and updated our Toronto neighbourhood guide to wrap up 2016. Our guide compares your budget with property types in Toronto's various neighbourhoods. To see what this guide looked like in 2015, click here.
The Big Smoke: a city rich in culture, entertainment, underdog sport teams (TFC *almost* did it in 2016!) and a seemingly unstoppable housing market (still!). It's a great place to live, but navigating the Real Estate market can be tricky. With hundreds of different neighbourhoods to choose from, bidding wars galore, and differing opinions on the market; finding a property and neighbourhood that best suit your needs and budget is overwhelming. Looking at average prices for neighbourhoods can help, but may not be reflective of the realities of the market. When every dollar counts, you need more information.
Identifying how much you can afford is a good first step; however, how much you are willing/able to spend should also depend on the condition of the home. After all, this will have a large impact on your housing budget. And shouldn't it also depend on the neighbourhood you choose? So where do you start? How about right here…
We have simplified Toronto Freehold Real Estate into 3 tables for East, Central and West neighbourhoods. Each table indicates what type of home you can get in each neighbourhood and for your budget. We have categorized houses into 5 different categories and identified what price point you can expect to pay for each home type across the city.
So if you are curious if you can afford a fixer upper in The Beach, how much a detached home with parking goes for in Roncesvalles, what you have to pay to start a conversation in Lawrence Park or where prices are topping out in Riverdale, follow the steps below and check out our handy dandy charts.
1. NAME YOUR PRICE
What budget category do you fall into? This would be determined by your mortgage pre-approval and how much you can afford to spend on housing each month.
Getting into the Game: < $650,000
The Masses: $650,000 – $850,000
Stepping Up: $850,000 – $1M
So-called Luxury: $1M – $1.5M
Luxury: $1.5M +
2. WHAT'S YOUR TYPE?
What are you looking for in a home? Read the categories below to determine your best fit.
High Point: This category identifies the highest priced homes selling in any given neighbourhood (in the past year). If a neighbourhood has had around 5 or fewer sales it will be labeled as a High Point. If you are considering purchasing in a High Point for an area you should proceed cautiously and confirm whether a home deserves such a high price tag.
Done + Done:  Looking for a detached home in good condition, parking, 3 bedrooms, all on a quiet street? Join the club! If these are must-haves, then stick to neighbourhoods that offer D+D homes in your desired price range.
The Compromise:  Willing to make some compromises to get into your preferred neighbourhood? We have identified the price ranges where you can expect to make some compromises for all of Toronto's neighbourhoods.  A compromise could mean one or a combination of the following:  no parking, semi detached or townhome, small lot or busy street, renovation needed, small and/or only 2 bedrooms.
Fixer Upper: Willing to break out your tool belt (or pocketbook) for the right home? The Fixer Upper label is referring to homes which need significant work, or could be representative of a price point for some townhomes in various neighbourhoods.
Entry Point: Just looking for a way in? Our entry point identifies the lowest price a home sold for in a Toronto neighbourhood within the past year.  This will typically only represent a few homes that are likely to be small and unique properties that need substantial work, and for many areas could be indicative of a starting point for land value.
3. PICKING SIDES
Once you've determined your price point and property type, the next step is to pick which side of the city you're looking to call home. Our EAST, WEST + CENTRAL tables (links below!) will show you the neighbourhoods that best suit your budget and style. Note: these tables are for freehold properties only.
Looking for more detail? Contact us for a a full neighbourhood analysis and find out where you should be looking to buy. Want to see what these charts looked like last year? Click here for our 2015 neighbourhood guide.