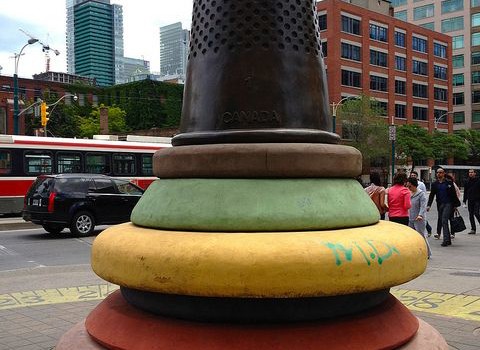 The Fashion District
The Fashion District, also know as the garment district, was named for its area's role in the garment industry in the early 20th century. Bordered by Queen + King to the North + South, and Spadina + Bathurst to the East + West, the area has been a part of some major gentrification happening in the west end of the city. With super easy access to downtown + uptown, and a bevy of culture + entertainment right on your doorstep, it's no wonder this area continues to grow. While there's still a handful of fabric stores to give credence to its name, the area has so much to offer. Here's quick guide on what's happening in the Fashion District:
Where to Eat: This is by no means an exhaustive list; there are just too many options. Lunch: Kupfert + Kim, Jules, Fusaros, Fresh, The Burger's Priest, Lunchbox Sushi, Avenue Open Kitchen (on Camden) + Le Gourmand. For dinner (or lunch if you're fancy): Buca, Westlodge, Brassai, Gusto 101, Valdez + Tutti Matti.
For Coffee: Jimmy's Coffee, Portland Variety, Starbucks, + they even have a good ole Timmy's at Spadina + Adelaide.
For Groceries: there's a Loblaws that's walking distance (Queen + Portland) + Fresh + Wild (Spadina + King), not to mention that Chinatown is a very short walk. Technically not groceries, but could be considered a major food group, there's an LCBO at the corner of Spadina + King.
For Everything Else: Ladies, the women's only water spa, Body Blitz, is right at Adelaide + Portland. Yoga Tree + Barreworks are close by for those who bend. And the Nike Loft is located on Richmond for all the runners out there. Enjoy some green space at Adelaide + Brant, and Spadina + Wellington. For music lovers, the Cameron, The Riv + The Horseshoe are all within stumbling distance.
To Shop: For the home, you're in a good spot – CB2, Morba, Urban Barn, Home Sense + Design Republic just to name a few. For fashion, you've got the main guys – H&M, Urban Outfitters, Club Monaco, but also a TON of great boutique shops along Queen for both fashion + home.
As far as properties go, the Fashion District is largely made up of condos. It's worth noting that buildings in this area generally do not exceed 15 stories, so you can still enjoy the sun when you hit the streets. And not all condos are equal. Yes, there is your fair share of smallish units (especially just outside of the district's boundaries), but keep a eye out for those hidden gems. Like this almost 1500 sqft, 2 +1 bdrm, 2 bath property for only $699,900. This is the perfect place for families starting out, small families or even as an investment property. You are steps away from everything you need with plenty of space at home. Living urban does not always mean living small.
Did we miss you favourite Fashion District must? Make sure you let us know in the comments below!